Greenworks G24UC 24V Charger with 1pc 2.0Ah Battery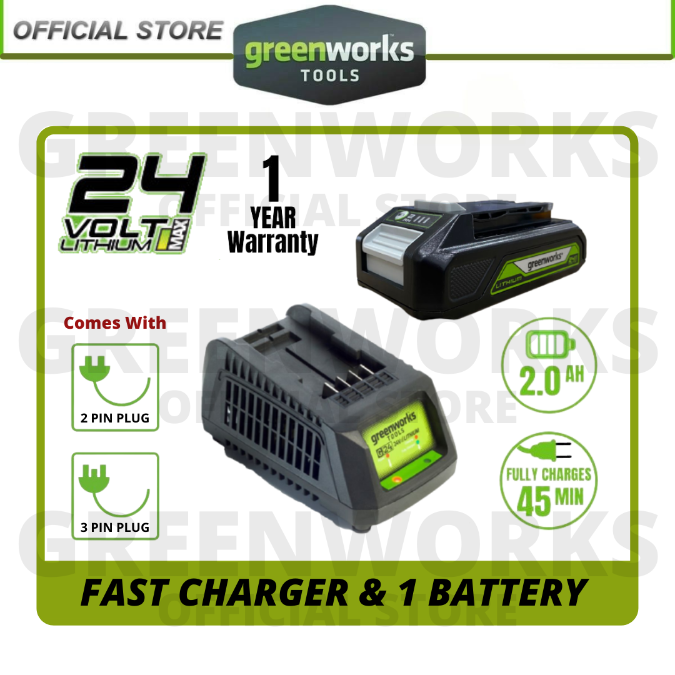 Greenworks G24UC 24V Charger with 1pc 2.0Ah Battery
---
This model has a charge level indicator and a system to protect against battery recharging - automatic power off when 100% charge is reached. The case has a compact design for easy storage, is equipped with perforations to protect against overheating and rubberized legs for stability in the plane, as well as a lug for attaching to the wall.
• Compatible with lithium-ion batteries Greenworks 24V G-24
• Battery charging time 24 V 2 A * h - 30 min
• Battery charging time 24 V 4 A * h - 60 min
• Battery protection systems
---------------------------------------------------------------------------------------------------------
Greenworks G24B4 is a lithium-ion (Li-ion) high capacity battery of 4 Ah of the latest generation, made using the latest technology and used in Greenworks  

G-24 24V

  technology .  

The battery consists of Japanese Sanyo cells and is equipped with a built-in electronic control circuit, which is designed to protect against overcharging and overheating. This ensures a long battery life - more than 2000 full charge cycles, which for non-commercial use is approximately equal to 10 years of operation. 

Unlike nickel-cadmium (NiCd) or nickel metal hydride (NiMH) batteries, a lithium-ion (Li-ion) battery is not subject to a "memory effect" - loss of capacity when charging a battery that is not fully discharged.As an important advantage is the fast charge of the battery, in 50 minutes the charge reaches 50%, and the full charge occurs in 90 minutes.  

For convenience, the battery is equipped with an indication of the level of charge and shockproof housing to protect against mechanical damage.