16" Replacement Saw Chain for Greenworks GD40CS40 Chain Saw 90PX056XGL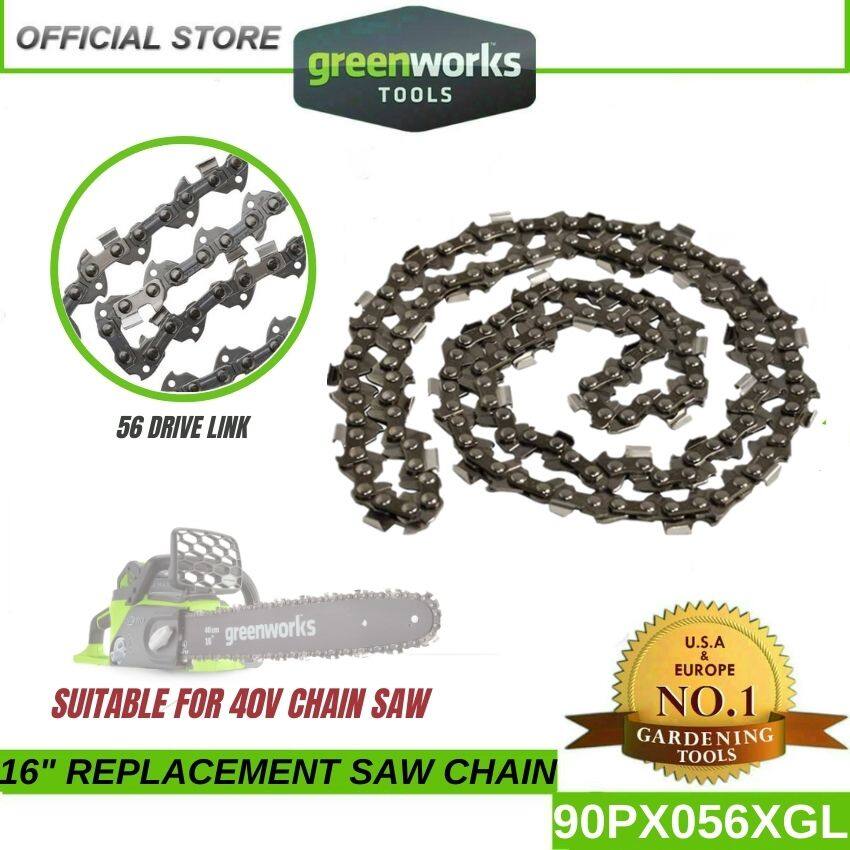 16" Replacement Saw Chain for Greenworks GD40CS40 Chain Saw 90PX056XGL
---
Product Description
Designed for homeowners and landscapers using small low-powered saws, the Oregon 90PX056G AdvanceCut™ Saw Chain is a .043" gauge, 3/8" low profile chain that allows you to maintain your trees with ease. 91PX chain is more efficient, because Oregon's narrow kerf cutting systems require less power from the saw than standard cutting systems. The chainsaw chain's narrow .043" gauge makes it roughly 15% lighter. The low-vibration, low kickback Chamfer Chisel cutters have twin cutting corners for outstanding performance. Always use this chain with guide bars designed for narrow kerf chainsaw chain. The Oregon 90PX056G AdvanceCut™ Saw Chain fits Husqvarna 136, 137, 140, 140S, 141, 142, 23, 235, 240, 240E, 243, 249, 33, 36, 41, Electric 16, 38, and 235 E as well as saws made by Echo, Jonsered, Dewalt, Poulan, Makita, McCulloch, Craftsman, John Deere, Dolmar, Allis Chalmers, Dayton, EGO, Green Machine, Greenworks, Mastercraft, Skil, Red Max, Snapper, Solo and Tanaka.
Product Details
Pitch: 3/8" Low Profile™, gauge: .043", narrow kerf, drive link count: 56

LubriTec™ keeps your chain and guide bar oiled for less friction and longer life

Top-Plate Filing Indicators make accurate sharpening easier

For saw sizes up to 42 cc

Always use narrow kerf chain in combination with narrow kerf designed bars

This saw chain met the kickback performance requirement of ANSI B175.1-2012 when tested according to the provisions of ANSI B175.1-2012. Low-kickback saw chain meets the kickback performance requirement of CSA Standard Z62.3.